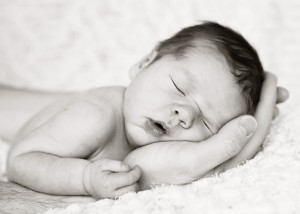 Newborn sessions should be scheduled before the baby is born to ensure a spot on my calendar.   I schedule newborns on weekdays or weekends and we can set a tentative date based on your due date.   They are best photographed within the first two weeks of age because they are more sleepy in this stage and easier to pose and work with.
The sessions are held in the comfort of your own home and typically last between 2 – 4 hours.   I leave plenty of time for the frequent breaks a newborn needs for feedings, diaper changes and being soothed comfortably to sleep.  I have lots of patience so no worries if it is taking longer than you expected!
TIPS FOR YOUR SESSION
If you can, feeding them 15-30 minutes before I arrive is a good idea so they are full and satisfied when I get there. I also highly recommend having a pacifier on hand if your baby uses one.  This will allow your newborn to sooth him or herself off to sleep more easily for some adorable sleeping poses.  If you are able to, keeping them awake for a few hours before I get there is also a good idea so that they will be more sleepy for their session.
I bring various blankets, baskets, wraps, hats, diaper covers and headbands for the baby so there is no need to buy any outfits or props beforehand.  However you are more than welcome to use your own too.  Babies photograph best in the simplicity of their own skin so just a diaper cover, a hat or headband is all that is needed to capture all their cute little features.  If you wish for them to be totally in the buff, loosen their diaper before I get there so that it gives the imprint marks time to disappear before they are photographed.  Having them wear a loose-fitting sleeper or wrapping them in a blanket before I get there is also a good idea so that they aren't too disrupted when we remove it.
Because they are not used to being in their bare skin, I recommend turning the thermostat to around 80-85 degrees at the time of their session.  This will make the session flow smoother if they are more comfortable.  Babies are not able to regulate their body temperature until around 6 months old, so a warm temperature is very important!  This will also allow them to fall asleep much faster for their posed sleepy shots.  I also bring a long a little space heater.  We may be sweating but the baby will be warm and cozy!
I will set up in an area of your house that gets ample natural lighting.  I bring a beanbag with a stand behind it to attach my blankets to.  I don't need very much space but sometimes I may need to move a few pieces of furniture away from the window and open the blinds or curtains in this spot.
I can most certainly take pictures of the whole family, the baby with parents and the baby with any older siblings.  It is best to include young siblings at the beginning or end of the session.  That way we will have a calm and quiet environment for the individual baby portion of the session.
For clothing choices for pictures with your newborn, I recommend something plain and simple without distracting patterns or logos.  Often times, short sleeves or lightweight clothing is a good choice since the temperature will be warm.
I look forward to photographing your new little one!