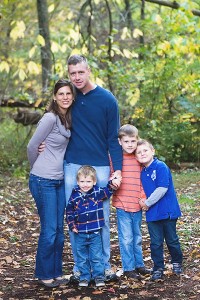 Welcome to my website! Throughout these pages you will see all the wonderful people and families that I have had the pleasure of photographing since 2008.
A few interesting facts about me…
I am married to my wonderful husband, Scott of 13 years… we are parents to 3 adorable little boys (ages 9, 7 and 5)…my bachelor's degree is from Miami University…I love all things art…I love to travel…I am the world's worst cake baker…I love to laugh and hang out with family and friends…I (obviously) love photography and think that freezing a moment in time is so fun and fascinating!
As a photographer, my goal is to create timeless images that capture the true spirit of my subjects. I love catching a moment of laughter, the joy of children playing and the loving interactions between family members. I truly feel that it is an honor to capture these moments for my clients so that they have these memories for years to come.
I reside in Blacklick Ohio and am available to Columbus and the surrounding areas. I specialize in photographing newborns, babies, children, high school seniors and families. I look forward to meeting you and your loved ones!